Family has high hopes Solex will take off in Utah
By Max B. Knudson, Deseret News business editor
Solex is a moped-like cross between a bicycle and a motor scooter that is standard transportation in Europe, South Africa, some Pacific islands and other parts of the globe. Matthews and his family have high hopes that the United States will join the party.
Matthews, who grew up riding a Solex, is managing director of VeloCruz, which is the exclusive U.S. distributor for the Hungarian-made "motor bicycle." It's based in North Salt Lake, 640 N. Main, Suite 1534.
Tommie G. and Jan Matthews (wife), first fell for the Solex back in 1967 when Tommie was on a teaching assignment for the LDS Church in Western Samoa.
"We were looking for some transportation around the island, because cars were hard to get," Jan recalls. The Solex, then made in France, proved to be just the ticket. Tommie says he would take all three of their children with him around the island, one on the front and two on the back. They ended up buying two of the machines and brought them back to the states. (They now live in Fruit Heights.)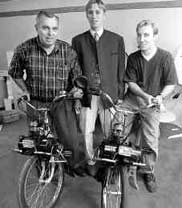 Tommie Matthews and sons Spencer and Christian show off bikes at their SolexUS shop.